Anniesland retirement flat plans submitted
June 14 2013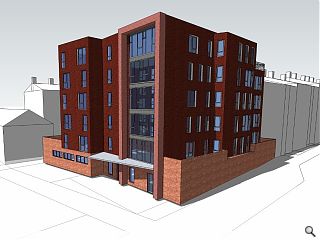 Organic Architects have
submitted plans on behalf of Sanctuary Scotland
for new retirement flats and a worship space on Bearsden Road, Glasgow.
Located on the site of the existing Anniesland Methodist Church the scheme will allow the Methodist church to continue to worship in its present location whilst reducing overheads.
Permission has already been granted to demolish the existing church which no longer meets the congregation's needs and carries prohibitive maintenance and upkeep costs.
In a statement the Rev T Alan Anderson said: "In selecting a partner the congregation wished the developer of the site to have a non-commercial purpose, in order to continue the community work of the church. We believe that working with a Housing Association to build retirement housing for the local elderly is a very good fit for us.
"For some years the Church has been suffering with the burden of looming repair bills for the aging church building. The purpose of the Methodist Church is to provide worship, evangelism and outreach, not to be a custodian of ancient buildings."
The new homes have been designed to meet housing for varying needs and eco-homes standards.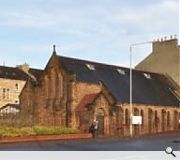 Historic Scotland judged the existing hall to be not worth listing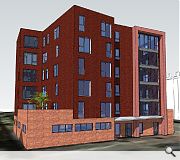 The brick clad properties will rise from a reconstituted sandstone base with a feature stone arch framing the southern elevation
Back to June 2013