Hampden Park's North Stand opens for Scottish Cup final
May 25 2013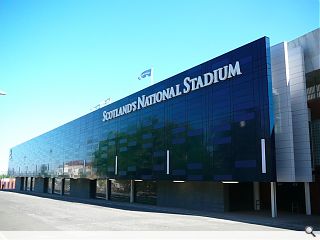 A
£3m extension to Hampden Park
has been completed ahead of schedule to provide enhanced spectator facilities for tomorrow's Scottish Cup final, one year ahead of its role as a key venue for the 2014 Commonwealth Games.
Funded by the Glasgow 2014 organising committee and designed by Holmes Miller the stadium is set to play host to track and field athletics during the summer jamboree and will also be the venue for the closing ceremony.
This has seen construction of an extension to the existing north stand, including a new façade and improved catering, toilets and accessibility ahead of a remodeling of the pitch later this year, including raising the surface by 1.9m and extending the athletics track over eight rows of the lowest seats to bring it up to an international standard competition track.
The temporary track and raised surface of the arena will create a 44,000-seater stadium, returning to its current 52,000 capacity following the end of the Games.
Glasgow 2014 chief executive David Grevemberg said: "We have exciting plans to temporarily transform Hampden to host our athletics competition in 2014, which will feature some of the fastest and most agile men and women on the planet. However these improvements to the North Stand are permanent and will not just benefit Games spectators, but those attending events that Hampden will host this summer and long after the Games has ended, which is a fantastic legacy for the stadium."
Back to May 2013