Nord take second place in Australian prime minister's residence competition
May 24 2013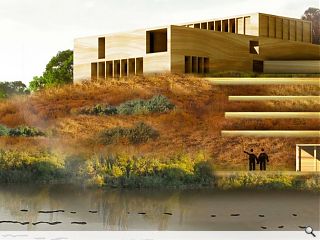 A team from Nord Architecture led by Professor Alan Pert and environmental design consultants Atelier 10 have won second prize in a
competition to design an official residence for the prime minister of Australia
.
In an explanatory statement the team noted: "Much of the architecture we are seeing across the world today is the unfamiliar, synthetic product of late capitalism…
"As architecture shares society's doubts about an uncertain future everything seems disposable, 'flexible', temporary and we find ourselves surrounded by drywall sheets rather than bricks; butt joints rather than bonds."
In a reaction against this Nord proposed the use of natural materials such as sandstone, adapting local cultural traditions to the topography for a robust and tactile response on an outcrop above Lake Burley Griffin, near Canberra.
This sees a 'house-within-a-house' built to marry the competing needs of state and private occasions to retain domesticity in the huge home, centred on a courtyard gathering space.
Pert,
who was recently appointed director of the Melbourne School of Design
, will share in a A$20k prize for 'The Lodge on the Lake' along with Brian McGinlay, Helen-Anne Love, Mark Bell and Rod Kemsley.
First prize in the competition went to Jack Davies and team members Nicholas Roberts and Henry Stephens.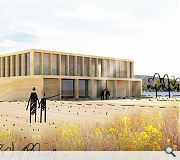 Deceptively massive walls conceal services, access and storage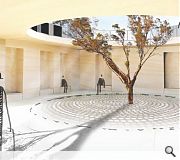 The lodge is needed to replace a classical 1920's residence which is no longer suited to its role
Back to May 2013