Three cities vie to host National Sports Centre
May 28 2013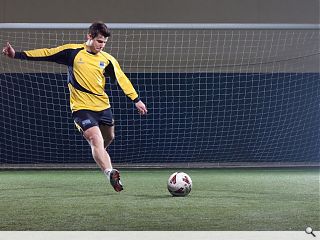 The race to secure a prestigious £25m National Performance Centre for Sport is heating up with Heriot Watt University and City of Edinburgh Council formally launching its 'Go Edinburgh' website to promote the advantages of the capital.
Dundee and Stirling have also been shortlisted to host the project, which will entail creation of outdoor and indoor sports halls and pitches for thirteen sports alongside the optional inclusion of a hotel, conference suites and athlete accommodation.
It is hoped that provision of such facilities, programmes and services will aid athletes when competing internationally.
Edinburgh is seeking to sweeten its bid with a promise of £5m of additional funding to create additional services such as a hotel, beach volleyball court and grass rugby pitches. Not to be outdone Dundee has earmarked land at Camperdown Country Park and Stirling is championing its existing Sportscotland base to the north of the city.
Footballer Michael Stewart said, "The National Performance Centre for Sport is vital to the development of sporting success in this Country. Having world class facilities and support services has to be at the heart of developing the next generation of footballers who have the skills and physical attributes to compete at the top of the game. The chance for football to work alongside other sports can only be beneficial and will create the perfect environment for sports to learn from each other's success."
Architectural imagery and details of the design teams is being withheld until the submission of final bids on 5 July with the new centre set to open its doors in 2016.
Back to May 2013