Funding secured for Dumfries Royal Theatre revamp
May 22 2013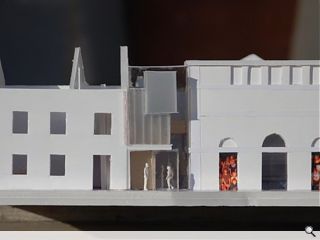 A lengthy battle to secure funding for a revamp of Scotland's oldest working theatre looks to have been won after Dumfries & Galloway Council voted to allocate £455k toward the project.
Designed by ARPL this will entail construction of a two storey contemporary extension to the side of the existing theatre and the absorption of neighbouring housing to provide rehearsal space, new foyer and a bar/restaurant space.
This replaces a more ambitious RMJM scheme from 2006 which would have seen a new build cultural centre built on the site - regarded as 'unrealistic and unsustainable' in the current economic climate.
Theatre director Karen Ward-Boyd said: "The days of spending millions of pounds on nice, new, shiny buildings and cultural centres which the council was talking about a few years ago we saw as unrealistic and unsustainable in this climate.
"We thought actually you would be better investing in an existing facility that has support."
Work on the project could commence early next year,
if planning approval is forthcoming
, with completion expected by October 2014.
The distressed state of the existing theatre leads many to conclude that it has closed
Back to May 2013