House builders appointed for Chapelton New Town
May 22 2013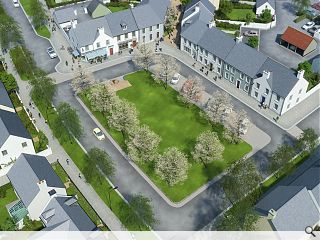 Elsick Development Company, proponent of a £1bn new town 10 miles south of Aberdeen, has announced the appointment of ZeroC Holdings in partnership with Hope Homes, AJC Homes and A&J Stephen Ltd to build the first phase of 225 homes.
This dovetails with the tender process for infrastructure works which will clear the way for construction to begin at Chapelton of Elsick,
following its planning approval earlier in the month
> Kim Slowe, Managing Director of ZeroC Holdings, said: "We're delighted to announce plans to build some of the homes in phase one of Chapelton. The process of working closely with EDC and other interested house builders to design homes has been extremely beneficial.
"We have been involved with EDC from the design phase so we can guarantee a level of quality control while ensuring that the properties are buildable and compatible with the market."
ZeroC and Hope Homes previously collaborated on the Prince of Wales' estate at Knockroon, Cumnock.
Work on the new town, which could accommodate as many as 8,000 homes upon completion, is scheduled to commence in the spring of 2014.
Back to May 2013