Ian Springford details Bridgegate House work
May 21 2013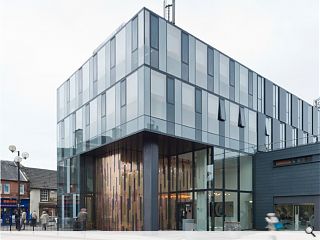 North Ayrshire Council has taken possession of Irvine's recently renovated Bridgegate House
following completion of works by Ian Springford Architects
on behalf of the authority and Irvine Bay Regeneration Company.
This work involved re-cladding the existing building with an energy efficient envelope together with a complete internal overhaul which has raised occupational density from 200 people to over 400 – whilst the building remained occupied throughout.
As a result the building now houses open plan, naturally ventilated accommodation with ground level retail imparting uniformity to the surrounding streetscape.
A copper alloy clad entrance space contrasts with the use of glazing and highlights a newly enclosed underpass which now serves as a double height multi-functional reception space and customer service centre.
Project architect Ian Springford said: "Internally we've stripped out the cellular office layout to create an open plan, naturally ventilated environment which exposes and uses the existing buildings concrete frame as part of the energy reduction strategy. We are hopeful the building will achieve a BREEAM 'Excellent' rating.
"The work also involved creating a new customer service centre for North Ayrshire by in-filling a void under the building."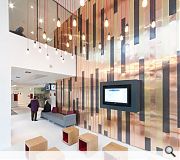 A reception centre is the new public face of North Ayrshire Council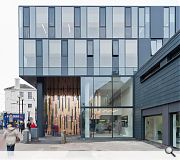 Glass cladding is intended to reflect the sky and recede into the background
Back to May 2013