Nord's Bellahouston Park hospice secures planning
May 21 2013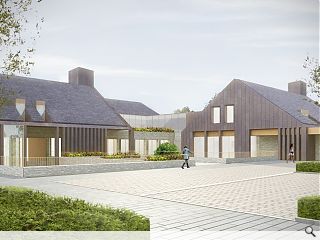 Proposals to build a new
palliative care centre at Bellahouston Park
have won approval from Glasgow City Council's planning executive, clearing the way for work to begin on the £18m facility.
Designed by Nord the 16 bed in-patients unit will incorporate a young adults unit and is modeled on a Danish system of social interaction with two central fireplaces acting as the core of the build.
Commenting on the news Rhona Baillie, chief executive of The Prince & Princess of Wales Hospice, said: "Our current home at Carlton Place is at capacity and has served us exceptionally well for over 30 years. The new facility will enable us to extend our services to the people of Glasgow in purpose built facilities situated in stunning surroundings of Bellahouston Park.
"Once open, our new Hospice will enable us for the first time to offer increased facilities for younger patients aged 15 and above, in surroundings that are appropriate for the transitional age group. This includes increased privacy with single rooms and family accommodation, as well as access to beautiful gardens and increased parking facilities.
"In addition, we will also be able to offer more flexible out-patient facilities, as well as extended education facilities. Our new Hospice will allow us to host national and local training events."
Back to May 2013