Shotts Giant stands tall at revamped cross
May 13 2013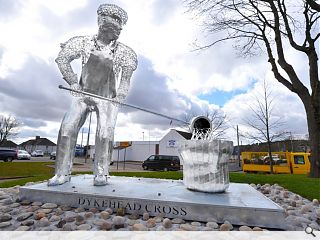 An 8ft sculpture representing the industrial heritage of Shotts, North Lanarkshire, has been unveiled as the centrepiece of the towns newly landscaped Dykehead Cross.
Designed by sculptor Jason Paterson alongside North Lanarkshire Council's land services greenspace development section, the steel-plated giant was inspired by the iron and coal production once carried out in the region.
Built by Caley Construction the £30k Shotts Giant incorporates a plaque commemorating local miners at its base.
Regeneration manager Matt Costello said: "The nickname for the statue is actually quite amusing and reflects a little bit of local history, though most people probably don't realise it.
"Back in the 14th century, Shotts had its very own giant, Bertram De Shotts, who is believed to have been somewhere between seven and eight feet tall.
"One version of events has the town being named after him. Bertram was a bit of ne'er-dowell and met a gruesome end … hopefully our new Shotts giant will fare a little better."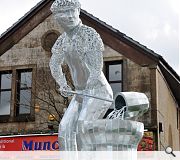 The piece was created in collaboration with the Shape Up Shotts Community group
Back to May 2013