Self-sufficient Dumfries & Galloway farmhouse unwrapped
May 13 2013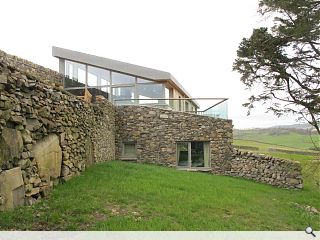 A fully self-sufficient 'eco farmhouse' has been unwrapped by Mark Waghorn Architects in Moniaive, Dumfries & Galloway. Built for the Gourlay family, who have been tending land in the Cairn Valley for three generations, the custom built home is intended to embody a range of green business methods which they have introduced on their farms.
Three Glens stretches to 450 sq/m of space and includes five bedrooms for the use of family, staff and guests and is intended to act as a place to inspire and inform the approach of others to sustainable design.
This approach begins with the exterior finish of the property which blends with the landscape through use of natural materials and forms; including an oak exterior, dry stone wall, sheep's wool insulation and turf roof.
Interiors continue this theme with reclaimed railway sleepers serving as floorboards and furniture, cow hides used for upholstery and artworks commissioned from local artists used for decoration.
Solar energy, wind power and bore holes combine to make the home fully energy efficient and a raft of energy saving features have also been built into the design including a ventilated glazed area linked to the laundry for clothes drying and a naturally cooled food store and a wood burning kachelofen masonry heater used for heating.
Project architect Mark Waghorn said: "On my first visit it was immediately apparent to me where the house should be positioned. The copse of trees and outcrop of rocks were a natural frame for the building, with the existing external dry stonewalls connecting the house to the wider landscape and rooting it to the site
Neil Gourlay added: "I've always had the ambition to build a house. We just thought that if we were going to do something, we should make it interesting, different and as environmentally friendly as possible.
"I regard myself as a custodian of the countryside. I want what I leave behind to be more, and in better condition, than what I took on."
Back to May 2013