Scottish Ten team release first 3d Sydney Opera House image
April 17 2013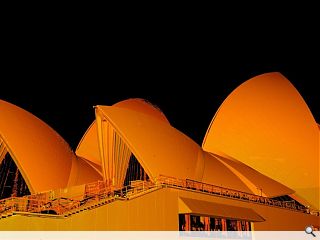 The Scottish Ten, a collaborative venture between Historic Scotland, Glasgow School of Art and CyArk, have published the first images from their bid to create a full 3d model of the Sydney Opera House.
The latest laser scanning technology has been brought to Australia to complete the project, timed to celebrate the Jern Utson designed icon's 40th anniversary in October and is the only modern structure to be included in the project.
Previous landmarks to be given the digital treatment include
Mount Rushmore
, India's Rani-ki-Vav and China's Eastern Qing Tombs, part of a wider project to digitally preserve five Scottish and five international sites for future generations.
Federal minister for environment and minister for the arts, Tony Burke said: "The Sydney Opera House is not just a symbol of Australia's cultural and artistic excellence but to many it is also a symbol of Australia itself.
"This project will help capture the form and beauty of the building itself and make more people want to see and experience this world heritage site first hand. But nothing will ever capture the grandeur of Bennelong Point short of people visiting Sydney Harbour itself."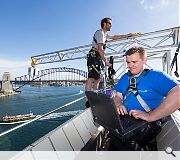 The Scottish Ten team perched atop one of the Opera House's iconic sails
Back to April 2013