Edinburgh quartet signal resi revival
April 18 2013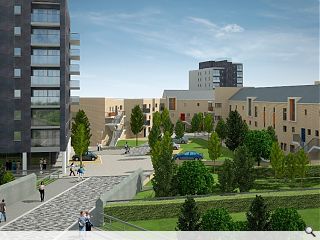 Edinburgh's long dormant residential market could soon awaken from its slumber with the recent approval of four significant schemes, all of them penned by EMA Architecture + Design.
This week alone the practice has secured permission for a scheme at Ocean Drive, Leith, on behalf of Cala Homes and a separate venture known as Urban Oasis at Lochend Butterfly, a scheme being delivered in conjunction with Smith Scott Mullan for Places for People Developments.
Inspired by the high density housing prevalent Ijburg area of Amsterdam Ocean Drive North will deliver 41 townhouses along the listed dock edge, each of which will open onto a series of private deck spaces arranged around a traditional lane.
Urban Oasis meanwhile will offer 205 homes within a 'dense urban village' with a reinterpretation of colony housing at its heart triangulated by three nine storey point blocks. The design also reinstates connections across three railway lines to knit the awkward plot into the surrounding urban fabric.
Both approvals follow hot on the heels of a planning double last month, when EMA secured approval for 65 flats and colony houses at McDonald Road in the city centre for Foremost Developments together with yet another scheme to deliver 110 new homes on greenbelt land at Edmonstone.
In recent weeks the practice has also submitted revised plans for the long-dormant
Shrubhill site
off Leith Walk.
It is anticipated that the four schemes will move on site in accordance with the below calendar:
McDonald Road - 1 May 2013
Edmonstone Estate - June 2013
Ocean Drive North - July 2013
Urban Oasis Lochend Butterfly - Q3 2013
Back to April 2013