Diageo partners with Klin Group on Kilmarnock development
April 17 2013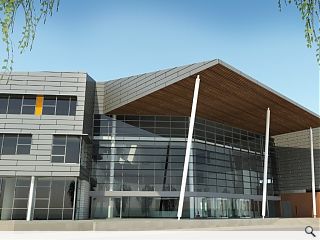 Drinks giant Diageo has entered into an exclusivity agreement with the Klin Group for the potential development of a 23 acre site at its former packaging plant in Kilmarnock.
The initial agreement is still at its earliest stages but will see Klin Group develop plans for a 'new quarter' in consultation with the local community, the first draft of which will be published shortly.
A ten acre plot on the site was previously
gifted to Kilmarnock College
by Diageo with work scheduled to commence on the BDP designed scheme this August.
Marie Macklin, CEO of Klin Group said: "The exclusivity agreement with Diageo enables us to press ahead with local consultations, to explore the feasibility and the detail of what we envisage for the site.
"Our aim is a dynamic new quarter for Kilmarnock town centre, based around education, health, community sports and culture, including an arena that would provide a year-round, all weather venue for sporting, conferencing and entertainment events. The hub would be focused on facilities and premises for enterprise, entrepreneurs and start-up businesses, driving a new economy for Kilmarnock and East Ayrshire, but serving a much wider area with facilities that would be unique in Scotland.
"Everything we have in mind would link into the work of Kilmarnock College, in particular, and local schools in general and, hopefully, would inspire and support local sports and cultural groups."
Back to April 2013