Trump unveils gigantic Menie hotel plan
March 4 2013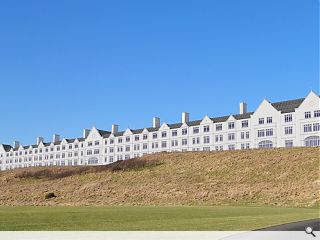 Donald Trump has released the first visuals of a gigantic 140 bedroom hotel planned for the Menie estate, Aberdeenshire, which its architects claim 'references the great history of Victorian coastal hotels'.
Designed by Acanthus DF the $150m property is aligned with the crest of a coastal escarpment on the boundary between the areas famous sand dunes and the wooded pastoral land on higher ground to maximise views out across the beach.
Trump is at pains to stress however that the scheme will not proceed if approval is granted to an 'industrial plant' proposed off the Menie coast, saying: 'if plans for the
ugly industrial wind turbines proceed
, we would obviously not build this hotel.'
Gregor Small of Acanthus DF, said: "With the desire to promote a coherent feel for the whole estate, the hotel, like the
main clubhouse
has taken its design cues from MacLeod House. There is a carefully considered balance between the desire to provide extensive glass overlooking the dunes and the offer of solidity, warmth and protection to guests.
"Traditional materials and forms combined within a clearly legible composition will exude the highest levels of quality, an insight into what can be expected by guests within. Its compact linear disposition gives impact and gravitas without resorting to outlandish height, something that would be out of keeping with its built heritage."
Trump's championship golf course opened its doors in July 2012.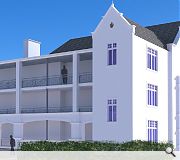 The elongated edifice will dominate the landscape
Back to March 2013