Nord submit Bellahouston Park hospice plan
March 4 2013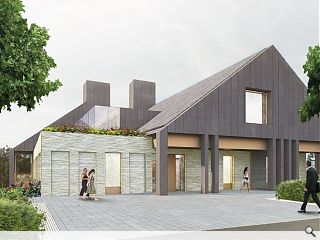 Nord Architects have
submitted plans
to build an £18m palliative care centre at Bellahouston Park, Glasgow, following a period of
extensive public consultation
.
The Prince & Princess of Wales Hospice will house a 16 bed in-patients unit and a young adults unit including associated family, educational and administrative spaces to replace an existing outdated facility at Carlton Place.
Clad in Penrhyn heather slate and roof tiles alongside Petersen Kolumba brick the hospice is based on the Danish model of social interaction and room layout with two central fireplaces acting as the core of the building.
The building is split across three floors with an inpatients unit which contains all the bedrooms and clinical areas on one level opening out to the east across a private garden space, part of an integral ERZ penned landscaping strategy will form a key component of the plans.
Atelier 10 is acting as mechanical engineers and Woolgar Hunter fill the role of structural engineer.
Back to March 2013