City of Glasgow College public consultation held
January 29 2013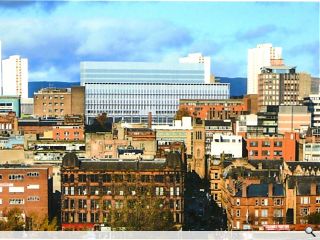 A public exhibition has been held by City of Glasgow College detailing their £228m proposal to consolidate an existing estate of 11 buildings, scattered across eight sites, into a twin campus environment at Cathedral Street and Thistle Street.
Reiach & Hall Architects and Michael Laird Architects have joined forces on the design of the campus, its centrepiece being a redeveloped Allen Glen building to form a massive new facility so big it would envelop the whole of George Square. Rising to 11 storeys it would provide 57,000sq/m of accommodation in a BREEAM Excellent building.
At its heart will be a four storey library fronting a full height atrium which itself will double as a space for events and gatherings. A rooftop café will afford spectacular views over the city, helped by the surrounding topography.
This will face a new public park designed by Rankin Fraser on the site of the Townhead building, which aims to enhance pedestrian permeability through to the Townhead estate, aided by a widened pavement on Cathedral Street itself which supports a new baker, hairdresser, butcher and fishmonger.
The satellite riverside campus meanwhile will provide 15,000sq/m of space for the schools of nautical studies, engineering and energy – in addition to an 11 storey, 180 bedroom halls of residence.
A planning application will be submitted next week ahead of demolition work being carried out on the Allan Glen building between June 2013 and January 2014. Construction will then commence immediately with the new building completed in August 2016.
In September 2016 the Townhead building will be demolished with landscaping work concluding by August 2017.
A consultation process will commence in the autumn over the disposal and re-use of the colleges surplus properties, including the landmark Metropolitan Tower.
Back to January 2013