£32bn High Speed 2 rail plans outlined
January 28 2013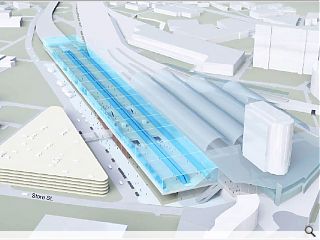 Government ministers have unveiled the most ambitious blueprint for the expansion of Britain's jammed railways since the Victorian era, the first new lines to be built north of London since 1899, with twin high-speed lines snaking their way from London to Manchester and Leeds respectively.
It is hoped this could be in place by 2033, clearing the way for extensions to Glasgow and Edinburgh at an unspecified future date.
The scheme announced today would entail construction of five new stations, two of them in Manchester, including an extension to Piccadilly, accessed via a 7.5 mile long tunnel to the south of the city and an interchange at Manchester Airport – halving journey times to London to just one hour and eight minutes.
More controversially Sheffield Meadowhall has been favoured over Sheffield Victoria because it would require a spur 11 miles long including a 2.5 mile tunnel which would have adding £1bn to the final cost.
Leeds would also benefit from a city centre station although an option to put it underground (so allowing through services to Edinburgh) has been ditched. For their part Nottingham and Derby must make do with a stop sandwiched in 'no man's land' between them at Toton.
As there is currently doubt over the long-term future of Heathrow Airport a decision on any spur there has been delayed until a review of UK aviation policy in 2015.
David Higgins, chief executive of Network Rail, said: "We are already delivering the biggest capacity improvement programme since the Victorian era, but even this is not enough. Without HS2 the West Coast Main Line – our busiest and most economically important line – will be full in a little over a decade."
In addition to passenger services the new lines would facilitate the transfer of freight from clogged roads.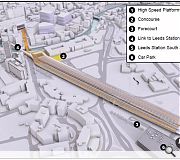 Leeds will be one of the main beneficiaries of the link, leaving Edinburgh looking on enviously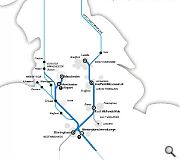 The government is championing high-speed rail as a means to shrink Britain and close the north/south divide
Back to January 2013