Perthshire eco-house given go-ahead
January 24 2013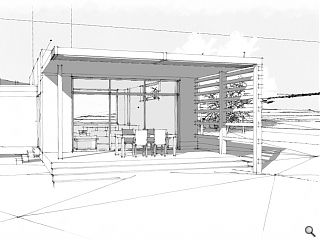 A Perthshire eco-house designed by Kirsty Maguire Architect, one of just a handful in Scotland to be built entirely off grid, has been given the go-ahead by planners.
Located in Trinity Gask the five-bedroom home will be clad in Scottish larch boarding and eschews concrete foundations in favour of a stilted wooden platform.
All its energy needs will be met through renewable sources and a management strategy for the surrounding land adopted – even the driveway will utilise recycled plastic matting to allow grass to grow through.
Maguire said: "This is a really exciting opportunity to show how we can cut waste and live more sustainably – it is a glimpse of the future.
"What we are creating is a large, comfortable and beautiful family home which needs the minimum of energy to keep it warm, light and bright even in a harsh Scottish winter.
"And all the power it does need will come from renewable sources generated or grown on site – electricity from a small wind turbine and from biofuels.
"The house will hold the warmth so effectively that heating will only take the same energy as it needs to run a kettle and a toaster."
Back to January 2013