Think tank urges demolition of Britain's high-rise estates
January 24 2013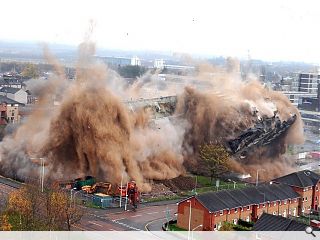 The Policy Exchange, a Conservative think-tank, has published a manifesto calling for the demolition of Britain's high-rise housing stock in a bid to solve an increasingly severe housing shortage.
The organisation reasons that 'crumbling' multi-storey housing is grossly inefficient in its use of land, choking off development opportunities within inner cities for the supply of lower rise, higher density replacements.
Citing London as a test case the body concludes that there currently around 360,000 high rise dwellings built in the period 1951-81 at a density of 75 dwellings a hectare. If these were rebuilt at a density of 100 units hectare that would allow construction of an additional 119,880 homes – rising to 406,800 at a density of 160 units per hectare.
The report notes: "The existing planning system has led to major cities building super high density and high-rise, box sized flats, the smallest in Europe and smaller than ever before in the UK. Between 2003 and 2007, there was a seven fold increase in high rise building even though social housing tower blocks are extremely expensive to build and maintain.
"There is wealth of evidence that multi-storey living leads to higher crime rates, weaker communities, and poorer health and education outcomes for residents."
Dundee is currently on target to demolish its entire stock of high rise housing within the next decade but Glasgow has been leading the way by sheer volume levelling dozens in recent years as part of ongoing regeneration work.
Demolition Timeline:
June 2012,
Petershill Drive
, Glasgow
May 2012,
Ibrox Court
, Glasgow
November 2011,
Glencairn Tower
, Motherwell
September 2011,
North Sighthill
, Edinburgh
August 2011,
Maxwelltown
, Dundee
May 2011,
Coll Place
, Glasgow
Feb 2011,
Octavia Court
, Greenock
Oct 2010,
Norfolk Court
, Glasgow
May 2010,
Broomloan Court
, Glasgow
Back to January 2013