George Square design contest announcement delayed
|
Send to friend
January 18 2013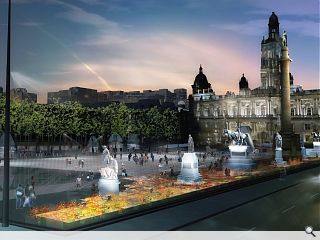 An announcement on the winner of the contest to redesign George Square is being delayed after the jury was unable to come to a decision.
Panel members have been considering designs from six short-listed companies taking part in the international competition.
However, the jury members have so far been unable to reach a decision and they are now not all available to reconvene until next week.
An announcement had been expected to be made tomorrow (Friday 18 January).
The £15m project caught the imagination of the international design community, with Glasgow City Council receiving 35 submissions to redevelop the square from as far afield as Australia, the USA and Sweden.
The six short-listed submissions are by:
• Agence Ter (France)
• Burns + Nice (UK)
• Gustafson Porter (UK)
• James Corner Field Operations (USA)
• jmarchitects (UK)
• John McAslan & Partners (UK)
The competition winner will have the prestigious task of working in partnership with the council to develop the final design for the square which will further enhance Glasgow's reputation as an international city.
The judging panel comprises: David Mackay, partner, MBM Architects Barcelona; Professor Andy McMillan, former head of Mackintosh School of Architecture, Glasgow School of Art; David Harding, former head of Environmental Art, Glasgow School of Art; Geoff Ellis, director of DF Concerts; and Councillor Gordon Matheson, Leader of Glasgow City Council. The panel's technical advisor is Neil Baxter, secretary and treasurer, RIAS.
Councillor Matheson said: "It's disappointing, but it's important that we get this right. We will make a decision next week."
Members of the public will be able to continue to leave comments at The Lighthouse or online until 5pm on Friday, 18 January.
Back to January 2013