Urban Realm, New Year edition, is out now!
|
Send to friend
January 17 2013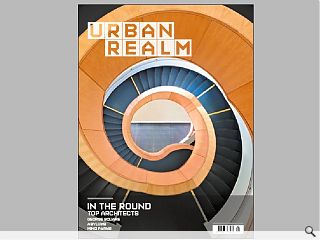 Urban Realm has got out of the blocks early this year with publication of our first edition of the New Year. Those of you who have already received a copy will know its stuffed fuller than a Christmas turkey with news, views and reviews so if you haven't yet picked up a copy please do so now by contacting
kasia@urbanrealm.com
.
Outlining this quarters manifesto Urban Realm editor John Glenday said: "As 2013 dawns the future has never been more real, nor daunting. In all walks of life change is manifesting itself in often unforeseen ways and at a startling pace, from tablet computers to demography.
"But how will all this impact on our built environment and is our current thinking up to the challenge this presents? As our summary of the
top architects in Scotland attests
, I believe it does, with an extraordinarily deep well of talent showcased
"From the work of our top ranked practice Rural Design, who along with Dualchas are doing much to reshape opinion outwith our urban centres, to more established practices such as Malcolm Fraser and Page/Park who are leading an increasingly progressive stance.
"For the latter the newly unveiled
Olympia in Bridgeton
is a case in point. Long associated with decline and depopulation this east end neighbourhood of Glasgow has reclaimed its mojo, encouraging locals and others to look again at the assets they still possess from a fresh perspective.
"We continue this theme by looking at a number of libraries to complete in recent months from Edinburgh's
Noreen & Kenneth Murray Library
to Aberdeen's bombastic Sir Duncan Rice Library.
"Change isn't always welcomed with open arms however, as this year's Carbuncle campaign has found, wind farms are putting many of you in a spin.
"And let's not forget for some parts of the country time has stood still, no more so than our crumbling former asylums. We look at the prospects for two of the grandest,
Sunnyside
and
Gartloch
.
"Happy New Year!"
Back to January 2013