University of Edinburgh unveils Noreen & Kenneth Murray Library
|
Send to friend
January 15 2013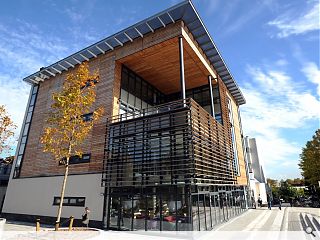 The University of Edinburgh has opened the doors to the Noreen & Kenneth Murray Library, an Austin-Smith:Lord designed library which replaces an incoherent hodge-podge of outmoded facilities on a shoestring £4.05m budget.
Phase one of a wider redevelopment of the Robertson Library and Kings Building the larch timber clad cube has been developed as the civic focus of a new public square. Designed as a two storey 'podium hub' on the lower levels, incorporating a café, soft study spaces and meeting areas, the libraries upper floors are reserved for a sequence of quieter and acoustically separated study areas.
A-S:L partner Graham Ross told Urban Realm: "The relationship to the external spaces was fundamental to the project and important to the client from the outset. We sought, where possible, to allow views from and into the building enabling the library to be characterised by its external environment.
"In direct response to the Jisc guidance on study environments we investigated the possibility of enabling external study environments accessible from within the library and beyond the book security line. This resulted in the second floor study terrace which creates the striking landmark corner element. This was the most emphatic gesture towards creating an interface between internal and external study environments."
Explaining the projects genesis Ross added: "The ethos was to create a shared facility for all the various departments within the College of Science and Engineering. Locating the building with a front door on the principal routes overlooking the main open space on campus reinforced that objective."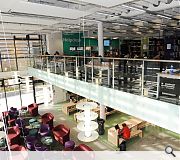 A live campus environment posed particularly onerous logidtical problems for the construction team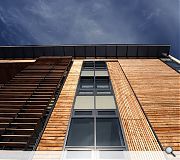 The new library doubles as a social hub, enticing students to linger after lessons and engender a more dynamic campus environment
Back to January 2013