Olympia theatre redevelopment opens its doors
|
Send to friend
January 15 2013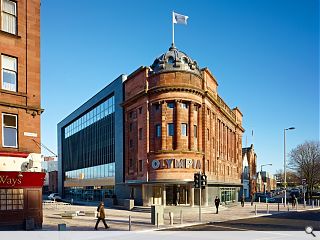 Bridgeton's
B-listed Olympia Cinema, reconfigured to provide a mixed use space for public and commercial tenants, has opened its doors to the public following an 18 month remodeling project undertaken by Page\Park on behalf of Clyde Gateway.
This entailed insertion of a series of stacked open plan spaces arranged in the void once occupied by the main auditorium. Inserted behind the retained façade the principle ground floor space has been given over to Bridgeton Library, one of nine hub libraries across the city operated by Glasgow Life and a new base for Amateur Boxing Scotland.
Two floors of open plan commercial space offering 360 degree panoramic views across the city are located on the upper levels.
Speaking to Urban Realm project architect Karen Pickering of Page\Park described the old Olympia as coming to resemble 'a tired old lady with trees growing out of her head', saying: "Before there were no windows and no way of seeing inside, so this opens it up to the street. It was a façade retention which is a shame and we really thought long and hard about how we get back the feel of the building. We were concerned that people with strong memories of the cinema would come back and find it wasn't there anymore."
A spiral staircase, inserted in order to reinstate some art deco charm, "initially extended all the way down to ground level", recalled Pickering (before security considerations intervened). Instead a lot of discussions were had as to how to be as inviting as possible without the need for multiple fireproof doors, although not without addition of an incongruous security camera.
Externally the most obvious addition has been the construction of a new build granite façade, explaining the rationale behind this Pickering said: "The columns are reflected in the new façade almost like a piano nobile, wrapping round rather than a straight flat façade. We tried to tie the two together even though they're such a contrast through the proportions."
Audrey Carlin, Clyde Gateway's project manager, added: "We're getting a different kind of vibe in Bridgeton now with workers coming on the train or cycling to work and we're hoping that others will follow to work in places like this. New shops are already opening and we're starting to get a bit more sustenance."
Photography by Andrew Lee.
Back to January 2013