Edinburgh school extension programme comes under fire
|
Send to friend
January 7 2013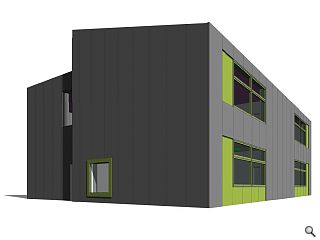 A scheme to extend four existing primary schools in Edinburgh using a modular, prefabricated building system has come under fire from architects for eschewing design flair for economics and standardisation.
The plans, which were submitted over the holiday period, affect Trinity, Wardie, Victoria and Granton Primaries which will each gain a new Aedas penned classroom extension.
One campaigner told Urban Realm: "This will be the first wave of school extensions which are being rolled out to cope with rising rolls. Designed in contravention of Scottish Government guidelines (the excellent
Building Better Schools
) which stipulate that the emphasis of new school building should be on innovation and personalisation rather than on standardisation, the brief for these new buildings prioritise speed and ease of construction.
"Sites are chosen where contractor's access is easiest rather than to suit school circulation or passive solar benefits. There is no attempt at school participation, holistic design, greenness, innovation or meeting the ambitions of the Curriculum For Excellence.
"Anyone with an interest in the fine and varied school estate in Edinburgh is encouraged to make comments. The Council's Children and Families Department has deliberately submitted this a week before Christmas in order to reduce the number of objections it receives as it knows that school offices will be closed and parents busy. "
In their design statement for
Trinity Primary
Aedas said: "The design challenge for the rising rolls project has been to produce a prototype unit that can be constructed within the tight timeframe of the school holidays.
"The units apply similar details and external materials for ease of construction and procurement but allow for school specific colours to be applied."
Public comments on the scheme must be made by 14 January.
Back to January 2013