Broughty Ferry affordable homes plan submitted
|
Send to friend
January 7 2013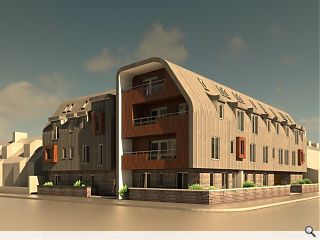 Plans have been
submitted to Dundee City Council for the redevelopment of a C listed single storey cottage
in the Broughty Ferry conservation area of Dundee to accommodate a development of 16 flats – after it was deemed uneconomical to repair.
The home's owner has commissioned Brunton Design Studio to draw up the plans, which entail erection of a four storey block turning the corner between Brook Street and St Vincent St, adopting a four storey profile the upper level would be recessed to avoid a 'pastiche vernacular'.
This will provide new affordable housing, of which there is a shortage locally, and entails an application to the Green Homes Initiative whereby the Scottish Government stumps up equity to allow the developer to receive 100% of the discounted sale price or in the form of a construction cost grant.
In return the homes will be built to a higher standard of construction, minimising their carbon footprint.
Planning officers had previously expressed 'significant concerns' at the proposed scheme. principally in relation to the appropriateness of a flatted solution in this location, the scale of the proposed replacement and a negative impact on the amenity of neighbouring dwellings.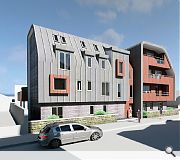 The contemporary approach is intended to match the scale of neighbouring properties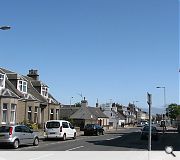 This C listed cottage would make way for the proposals
Back to January 2013