GSA graduate shortlisted for 2013 International Archiprix
November 20 2012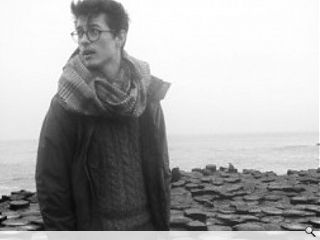 Glasgow School of Art graduate David O'Reilly has been named as one of just two UK representatives to make it onto the 25 strong 2013 International Archiprix shortlist.
O'Reilly swayed jurors with his
Mausoleum for Vatnajokull
design, inspired by the manner in which 'transient moments' of volcanism and glaciation can permanently affect the landscape.
Located on Iceland's largest glacier, Vatna, the scheme would form an observatory to document the changing nature of Jokulsarlon Lagoon as well as a repository containing 1,000 year old ice core samples.
Described as a 'sensory experience' the facility would be carved from ice and rock bearing deep grooves carved by glacial meltwater, mirroring the flow as it cascades into the lagoon below.
Graeme Massie, who has
worked extensively in the country
, is O'Reilly's former tutor. He said: "getting shortlisted for Archiprix is a wonderful achievement, but nothing less than David deserves. His thesis project on the shore of Jökulsárlón in Iceland investigated themes of landscape and memory, and throughout the year he demonstrated great passion and commitment to the project."
The biennial awards showcase the best graduation projects in architecture, urban design and landscape and will take place in May 2013 in Moscow.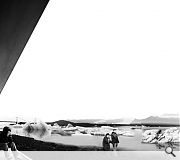 O'Reilly has reflected the raw natural environment in a series of two tonal depictions of life on the glacier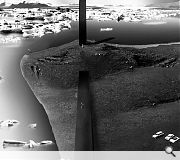 The Vatna glacier is slowly spilling into the Atlantic Ocean
Back to November 2012