Mesolithic house unearthed by the River Forth
November 19 2012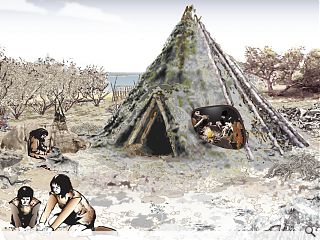 The remains of a Mesolithic home, estimated to be around 10,252 years old, have been unearthed on the banks of the River Forth during preparatory works for the Forth Replacement Crossing.
Workers stumbled upon a large oval pit measuring some seven metres in diameter with a depth of half a metre with a number of postholes, thought to be the foundations of one of the earliest recorded houses in the region.
The remains have been dated to around 8,240BC and include several fireplaces hearths, large quantities of charred hazelnut shells and over 1,000 flint artefacts - including tools and arrowheads.
Edward Bailey of Headland Archaeology told Urban Realm: "I can confirm the structure would have had an outer circle of wooden posts that would have formed a tepee like superstructure, we have an inner circle of posts that would have acted as support posts for the outer timbers.
"We believe that it would have been constructed using hazel, as charcoal identifications have identified only hazel from the structure.
"The walls were probably made of turf and it is possible that internally the walls or floor may have been lined with pelts for warmth.
"It would have been a significant undertaking in terms of time and effort which has led to the conclusion that the structure was likely to be semi-permanent. The structure was probably home to a single extended family over winter."
Back to November 2012