University of Strathclyde team complete live-build shelter project
November 20 2012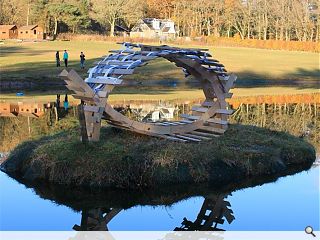 Students at the University of Strathclyde's department of architecture have completed their latest live build project after their Year 1 design studio were tasked with creating a simple architectural installation to provide shelter for two people.
This brief generated some 67 initial designs which were soon whittled down to 20 ideas which were discussed further, prompting a vigorous debate.
When the dust had settled 10 structures were taken forward to construction as part of the live build, a process which entailed production of scale prototypes and drawings and the prefabrication of elements using the department workshop.
Subsequent to this the year group decamped to Wiston Lodge, Lanarkshire, to erect their shelters over a two day period.
Year 1 studio director Derek Hill Said: "Their designs evolved without context, were considered through reclaimed and salvaged materiality and explored the very nature of the notion of 'shelter'.
"The design medium was physical modeling with students encouraged to work with materials representative of the look, feel and characteristics of the actual materials proposed."
The 10 completed shelters were duly handed over to the care of Wiston Lodge and are pictured below:
Back to November 2012