George Square survey gauges public opinion
|
Send to friend
October 24 2012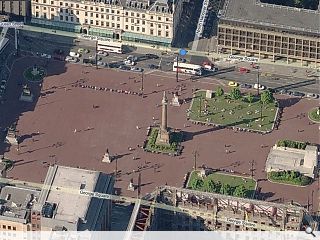 Urban Realm and Restore George Square's unofficial George Square survey has generated a welter of responses from people concerned about Glasgow City Council's competition plans are slanted toward the creation of an events venue instead of a public space.
Thus far we've received 134 responses' to our request, with only 16% agreeing that events should be a priority for the space although 56% of respondents didn't want to see an outright ban on commercial events.
Instead trees and greenspace were the overwhelming preference for the space with 82% of those to get in touch saying greenery should be prioritised above all else. A clear majority, 66.9%, were also against removal of the existing statues.
Amongst those to get in touch was Catriona McCallum who said: "I agree entirely that public space has given way to private events space without ever informing the electorate, let alone asking their opinion - not only in George Square but public parks are often cut off from the general public who either choose not to or do not have the means to 'pay' for access to public space."
Chris Humphries added: "A wide open square with removable furniture to facilitate events in a city that already has plenty of venues and wide open outdoor spaces is not required nor is it welcomed."
There is no unanimity on the removal of all events however with Simon King stating his belief that a limited number of events was still worthwhile. He said: "Christmas fair and other fairs which are to the benefit of the citizens are ok. Prestige events or purely commercial events should be held at SECC and the council can pay for the facilities."
Anne Clarkson meanwhile added: "No other European city would treat its civic square as badly as George Square is treated by the Council. It shouldn't be 'vibrant', it should a place of quiet greenery and dignified stonework."
There's still time to
make your voice heard
ahead of a George Square feature in the December issue of Urban Realm.
Back to October 2012