Tram chiefs claim Edinburgh link is back on track
|
Send to friend
October 23 2012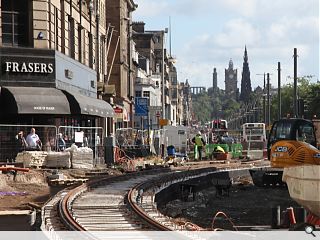 Edinburgh's perennially delayed tram system is said to be still on track for its revised completion date of summer 2014 for a total of £776m, despite just £107m being left in the kitty, according to Edinburgh City Council.
A total of £669m has been spent on the project thus far but a number of major works are still to be completed; notably the diversion of major utilities.
An Edinburgh City Council spokeswoman said: "Some of the most costly and complex areas of the work, such as the utility diversions are now complete and this accounted for a higher spend than other parts of the project.
"With this work completed, we are confident that the remainder of the project will be completed in line with the revised budget and schedule."
Upon completion the tram link will ferry passengers between Edinburgh Airport and St Andrew Square.
Tram travails
Jun, 2012
: Dave Anderson, ECC director of city development, suspended over 'managerial matters'.
Aug, 2011
: ECC, briefly, decide to terminate the project at Haymarket in a desperate bid to save cash.
May, 2011
: 'Remediation' work carried out to the Princes Street road surface.
Jun 2010
: Initial £545m budget called into doubt.
June 2009
: ECC forced to borrow after developer contributions fail to materialise
April 2009
: Granton to Roseburn line scrapped
Feb 2009
: Contractor BSC demands 11th hour fees hike of up to £80m following Princes Street closure
Dec 2008
: Retailers outraged by delays and disruption
Back to October 2012