Holmes Miller complete Park Mains High
|
Send to friend
October 23 2012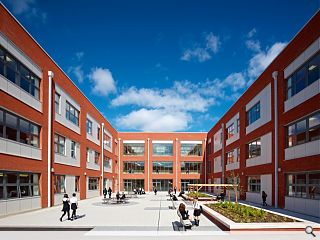 Holmes Miller have showcased their newly completed £31m Park Mains High School, Erskine, a three storey structure accommodating 1400 pupils and 136 staff designed for Renfrewshire Council.
Delivered by BAM Construction the school is finished in a grid of orange brickwork, with raking parapets employed to add perspective to key corners. A zinc clad two-storey management and administration building slotted within it.
Pedestrian movement is encouraged around a central social space arranged within a central atrium, defined by a strong grid of timber that is intended to compliment the rhythm of the external brickwork. This space benefits from natural light drawn through a series of rooflights and glazing that overlooks an external courtyard area,
Informed by the Curriculum for Excellence in school design, the plans include a series of 'break-out' spaces outside classrooms that help to facilitate different kinds of learning environments. Greater flexibility within classrooms spaces enables teachers to deliver different types of learning, thereby allowing an emphasis on topic rather than subject based learning.
Michael Dewar, Park Mains HS Head Teacher, said, 'This impressive building has already lifted the morale of staff, the pupils love it and the community are regular users of the tremendous sports facilities now available to them.'
Photography by Andrew Lee
Back to October 2012