V&A at Dundee relocation proposed
|
Send to friend
October 15 2012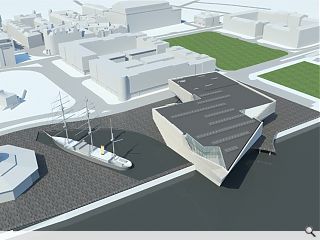 The proposed V&A at Dundee could be moved out of the Tay and onto dry land in a bid to cut costs and maintain the quality of the project.
The relocation will leave the rest of Kengo Kuma's dramatic design, budget and schedule unaltered and bring it closer to the Discovery by locating it on land currently occupied by the Olympia Leisure Centre, with just a 'prow' projecting over the river.
Critics of the museum building had long contended that the plans were undeliverable at the stated construction cost of £31m due to the difficulty of building a substructure out into the Tay.
One unnamed source told Urban Realm at the time of
Kengo Kuma's selection
: "The Kuma building, if delivered, is going to be great but the Dundee Council Team might have bitten off more than they can chew. More like £135 million of chewing."
Maurizio Mucciola, of Kengo Kuma & Associates, said, "We have made some changes to the site plan, in full consultation with our project team. While retaining the original concept of our project and the qualities of the building, the new site plan will tighten the relationship of V&A at Dundee with the river and the city centre, and help connect the two with a sequence of quality public spaces around the building."
Design Dundee Ltd has yet to make a final decision on the proposed changes but construction work is still scheduled to begin next year..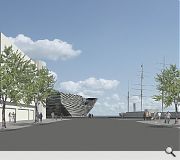 Demolition of the existing Olympia Centre is expected to commence imminently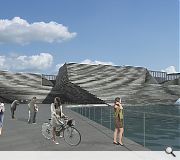 Proponents of the move say that it will help integrate the £45m museum with the wider waterfront masterplan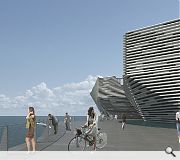 The move inland is cited as bringing greater certainty to the project
Back to October 2012