Alternate George Square survey launched
|
Send to friend
October 15 2012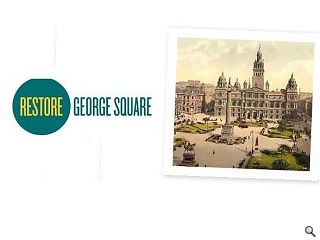 With the launch of Glasgow City Council's official survey into the future of
George Square
for business interests Urban Realm is launching an alternative hunt for ideas, one that isn't predicated on turning the set-piece public space into an events venue.
The open ideas survey aims to give an airing to untapped knowledge going wanting and is being run in collaboration with Restore George Square, a campaign group seeking to make the council think twice before turning the square into a permanent 'circus' complete with 'marquees and portaloos'.
In a statement the group said: "One of the most frustrating things about the council's approach to this has been that since 1998 they have been transforming the space from public space to private events space without ever informing the electorate, let alone asking their opinion.
"Instead we're set to get an illusion of choice with a few of the hand-picked competition entries resulting from the narrow brief that the public had little or no input in. So it would be good if the thrust of the questionnaire could be about the use of the square as a public greenspace/park/meeting place etc or a large-scale commercial events space."
To take part in the survey simply click on the link and give five minutes of your time to answer the questions
. The results will inform a comprehensive look at the Square in the December issue of Urban Realm.
Back to October 2012