Revised Royal Exchange Square plans to be submitted
October 1 2012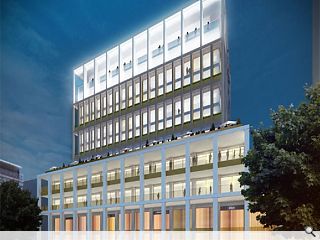 A proposal by Glenerrol Ltd to demolish 1,2 and 3 South Exchange Court in order to erect a mixed-use building comprising a 100 room hotel, retail, bars, restaurant and casino, has been revised following the acquisition of additional properties in the area by the developer.
James Mortimer, the tycoon behind the plans, believes that the additional sites will allow the scheme adopt a stronger retail element, particularly around ground floor and courtyard spaces.
Clad in white polished pre-cast concrete panels with exposed stone aggregate the scheme would rise to just 44.3m after
plans for a tower element were abandoned
.
Architect Alan Pert told Urban Realm: "The proposals that are going back in are pretty much the same. The client has acquired more land which has opened up more opportunities at street level, so there is more of an emphasis on the retail development and connections through the city block to Royal Exchange Square."
Commenting on the decision to opt for a
'slab' design
in favour of a tower element Pert added: "There was a lot of discussion about a tower or a slab but the slab was what went into planning. The tower was a more expensive solution and offered the same number of rooms, but because of the restaurant/bar at the top floor there was a desire to look at it."
A revised planning application will be submitted shortly.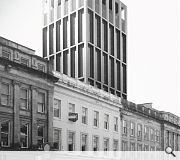 Splits within the Glasgow Urban Design panel led to a tower element being truncated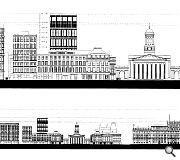 The hotel will reach the same height as the Merchants House of Glasgow
Back to October 2012