Parliament security extension goes ahead despite protests
October 1 2012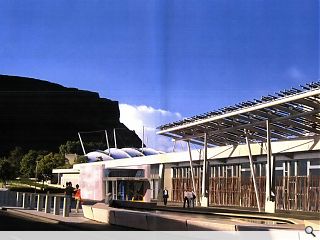 Controversial plans to build a security extension to the Scottish Parliament are to go ahead next Monday despite a
protest organised by a group of former RMJM architects and EMBT
.
The group, which includes Miralles wife Benedetta Tagliabue, claim that the plans will 'destroy the integrity' of the building and increase the risk posed to visitors.
In their design statement Lee Boyd contend that the facility is 'respectful of the original architectural intent' as well as being influenced by the 'strong lines' of the surrounding landscape.
Clad in Kemnay granite the £6.5m external security facility is detached from the existing building via a fully glazed corridor which runs parallel to the existing east façade of the Scottish Parliament.
This incorporates bamboo poles and curtain walling to 'match the existing fenestration'.
Back to October 2012