NORD detail Bellahouston Park hospice plans
September 27 2012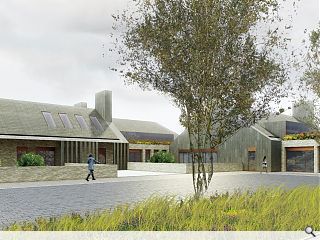 NORD Architects plans to build a new £18m palliative care centre for the Prince and Princess of Wales hospice were recently given a boost after Glasgow City Council donated an eight acre site at Bellahouston Park to the charity.
Conceived as four big interconnected villas the hospice has been
on the hunt for new premises since March 2011
after recognising that their existing facilities at Carlton Place were constraining future growth. NORD director Alan Pert told Urban Realm: Carlton Place is a building which is very typical of Glasgow; you'd look at it and never know if it was a surgery, lawyers or architect's office. It's a building which is anonymous in its urban setting and you walk in through a domestic front door.
"The biggest challenge is taking all that familiarity and putting it into a new building, you don't want to create a building which is too clinical looking. There's a slate envelope and a brick core, it's a bit like a building within a building with a big slate roof which forms a 2.5m deep hood which you can meander round and still be undercover."
Based on a Danish model of room layout, social interaction, visual contact and nursing the hospice social spaces are centred on two central fireplaces which act as focal points of the building, adding skyline interest in concert with two identical light shafts.
Pert continued: "Our biggest surprise was what goes on inside these places; it's not just the beds. There is the outreach programme, day-care facility, support service for bereaved families and care for young adults.
Every social space enjoys a view to the ERZ designed landscape, removing the danger of creating an internalised world. as Pert explained: "Typically for these sort of buildings you'll see sprawling single storey corridor spaces where nurses will complain about walking distance and a lack of intimacy. So we've tried to cluster everything around a series of social spaces.
"You walk in the front door and straight away you see a fireplace, lounge facilities with kitchens so you can make a cup of tea. We've seen people try to design out all the problems in other hospices and you can sterilise the space by doing that. It's easy to say Carlton Place is all wrong and it all fails but there is something that has happened over the years that they've got used to and worked around and is actually encouraging a bit of interaction."
The building is split across three floors with an inpatients unit which contains all the bedrooms and clinical areas on one level opening out to the east across a private garden space, then a public lawn and then seasonal gardens which people can wander out to.
The ground floor has a café and gallery space housing patient produced art, a big part of what the hospice does. Upper level roof space meanwhile contains all the corporate facilities and library space as well as all the marketing and admin offices which at that level allow views across the canopy of trees with interesting views right back to the city.
Atelier 10 is acting as mechanical engineers and Woolgar Hunter fill the role of structural engineer although a funding shortfall of £15m must still be bridged before their plans can be realised.
To achieve this a Brick by Brick fundraising group has been launched to encourage Glaswegians to dip their hands in their pockets and make the centre a reality.
Back to September 2012