Stallan-Brand headline Will Alsop's Testbed Space
September 26 2012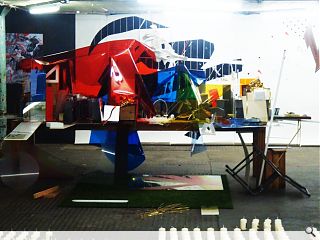 Will Alsop's Testbed Space, a Battersea based venue for the creative sector, has opened with Stallan-Brand headlining its latest exhibition.
Loosely structured around the theme 'Stolen', it sees the practice exhibiting alongside works by Jean Nouvel, Sir Peter Cook, Studio Egret West, emergent practices like Small Studio and engineers Atelier 10 & Buro Happold.
Paul Stallan's sculptural work is a large piece made from junk material found in Foster & Partners refuse, made possible after the team kindly consented to Stallan recycling their rubbish – or, as they might say in Glasgow, 'rake their bins' for model off-cuts.
From sourcing materials to building the work took twelve hours to assemble with the assistance of Iain Carson of Carson & Partners and Graeme Laughlan of RAW Architects - practices Stallan-Brand are presently collaborating with on two major projects.
After taking stock of their assemblage the three collaborators professed to see the architecture of Foster and Partners in a different light, inside out, upside down and in negative.
Part of London Design Week the exhibition is described as a 'a cross section of work that is experimental, playful and challenging', presenting a visual and conceptual collage of design ideas ranging from Alsop's All Design Studio proposal for a 'Neuron Pod' for Queen Mary University, to a work called 'Suck my Topo' by Lily Jencks and Megan Burke.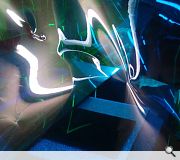 Stallan-Brand have been invited to do a solo show early next year.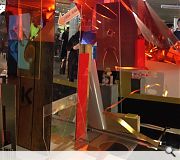 Sadly the colourful exhibition has now closed
The Doodle Bar sits at the centre of the anarchic complex and encourages patrons to draw on its walls to create a constantly changing backdrop
Back to September 2012