Kelvingrove student housing plans under fire
September 18 2012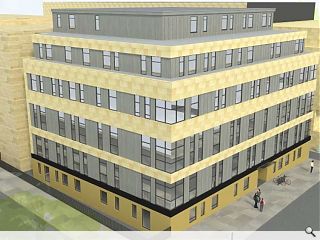 Residents of Glasgow's salubrious Park conservation area have been hit by a triple whammy of student housing applications which between them could bring 330 student residences to three vacant 1960's office blocks.
The largest of these has seen Paradigm Real Estate Partners employ Cooper Cromar to covert the largely empty Clifton House office block into 189 student residences – despite it being
extended and refurbished as recently as 2008 by Nord
. It has failed to find any new tenants since despite three years of marketing.
Young & Gault Architects meanwhile have been asked to convert the adjacent 14 North Claremont Street portion of the block into a further 94 student homes at a cost of £1.75m.
Claremont House, one door up at 20 North Claremont Street, will also be converted by Young & Gault this time on behalf of the Campsie Group to form 48 dorms. Here a more interventionist approach is being taken with additional glazing introduced, although the practice is retaining the existing stone banding after being refused permission for a complete reclad.
All three blocks share the same architectural language of strong horizontal stone banding which constitute a rare example of contextual 1960s design.
The plans have come in for criticism from Councillor Philip Bratt amongst others however, concerned over an influx of so many young, transient occupiers. Bratt is requesting that the applications be refused on the grounds of a large increase in the 'residential massing' of the area, issues relating to parking, noise and the 'saturation' of student accommodation.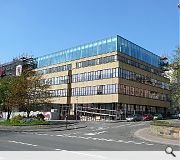 Clifton House is set for its second major overhaul in four years
Back to September 2012