EICC expansion takes shape
September 18 2012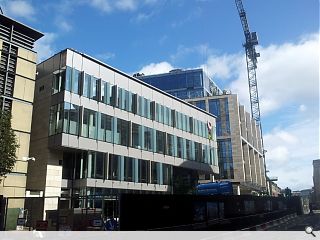 An £85m BDP penned extension to the Edinburgh International Conference Centre is taking shape on Morrison Street, the final phase of a masterplan for the Exchange district.
The scheme is being implemented to boost capacity at the venue, which is currently unable to stage larger sporting events and concerts, and will entail construction of a new extension to boost capacity to up to 2,000 people alongside construction of nearly 200,000sq/ft of office space - Atria Edinburgh.
Above ground structures are just the tip of a subterranean iceberg which incorporates an expanded main hall complete with its own dynamic system of mechanical seating and catwalks.
This will be employed to allow the space to be reconfigured between banquets, exhibition or arena formats as required.
Completion is timetabled for next year.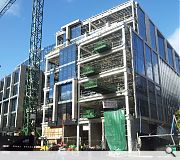 A seven storey office block will house a full height atrium and 15m cantilever over Conference Square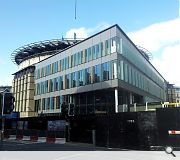 An entrance pavilion and cafe will link new with existing elements
Back to September 2012