Two consortia slug it out for Glasgow City College prize
September 18 2012
Glasgow Learning Quarter and BAM PPP have been named as the two remaining consortia competing to build a £200m city centre campus for
Glasgow City College
– following the elimination of Glasgow Partnership for Learning.
Led by Sir Robert McAlpine the Glasgow Learning Quarter team incorporates Reiach & Hall and Michael Laird Architects who have been collaborating since March on the project alongside FES, Arup Scotland and Hulley and Kirkwood.
They will battle it out with BAM to be awarded the contract to demolish Allan Glen's campus and Business Learning buildings on Cathedral Street to make way for a new build solution.
Demolition and reconstruction will also take place at the satellite Thistle Street riverside campus, home of the nautical studies department.
A preferred bidder will be announced in early 2013 whereupon a planning application will be submitted. Should this prove successful construction could start in mid-2013 with phased completion extending through 2015 and into 2016.
Initial design work was carried out by Atkins.
The Allan Glen campus will be demolished to make way for a new build solution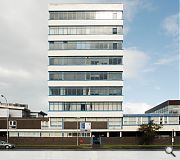 Work will also be undertaken to remodel the Colleges Thistle Street campus
Back to September 2012