Pupils high five latest wave of North Lanarkshire schools construction
September 6 2012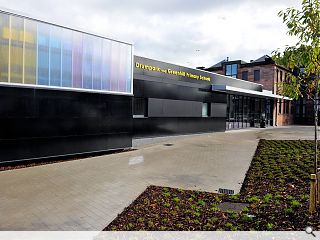 School pupils in North Lanarkshire have been high fiving the simultaneous opening of five new education campuses across the region, product of a £105m rebuilding programme.
The 'different class' of schools have been erected in Airdrie, Coatbridge, Shotts, Wishaw and Chryston to replace a series of dilapidated campuses erected in the sixties which had fallen badly behind the times.
In their place stand five brand new edifices which, it is hoped, will boost attainment in the communities in which they serve.
Drumpark School
, designed by CRGP, replaces the former Coatbridge High School whilst retaining the original sandstone building and boasts a glass and steel games hall and dining area formed to enclose a new courtyard.
The £12.5m campus even boasts its own swimming pool.
Archial designed
Chryston High
meanwhile has been supplanted by a new glass and zinc clad edifice, replete with a landscaped street to denote entrances to the new look complex.
The £22m school incorporates a cultural centre to replace existing facilities in the town and offers a range of facilities including a games hall, recording studio and a kiln room.
A £23.3m redevelopment of
Caldervale High
is also intended to give pupils a sporting chance with a range of new turf and sports pitches on offer.
A canopy will link the administration wing to the main teaching buildings.
Over in Shotts a £20m redevelopment of
Calderhead High
, penned by CDA, has brought brand new games halls complete with electric dividing walls, affording opportunity for the flexible and creative use of space.
Lastly, work to remodel
Coltness High
, also by CRGP, will deliver £26m worth of facilities, including a full size all-weather sports pitch and seven grass pitches.
All photographs are copyright of North Lanarkshire Council
Back to September 2012