Princes Street puts tram chaos behind it as store refurbishment completes
September 6 2012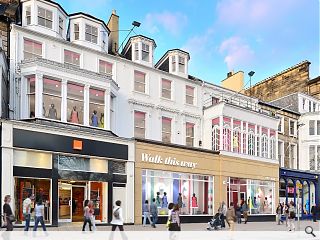 An extensive refurbishment of 131-133 Princes Street has been completed by BAM Properties to provide 10,000sq/ft of contemporary open plan floorplates.
The 18th century building is split over two levels and was formerly occupied by GAP, it is the latest attempt to spruce up the thoroughfare – which has been dogged by 'tartan tat' stores and seemingly neve rending tram disruption.
Dougie Peters of BAM Properties said: "One of the challenges Princes Street has always faced is that many of the buildings are not able to offer the kind of modern retail space that today's retailers require.
"This is a real gem of a building and has been beautifully restored to make the most of the traditional features while offering an irresistible modern retail space. I am sure this space will be much in demand from retailers, who are showing renewed interest in Princes Street now that the end is in sight for the tram works. Once the long awaited trams are up and running it will give a huge boost to Scotland's capital and totally transform the retail experience.
"An average of 12 million people per year already walk along Princes Street, so there is a huge captive market for retailers not just from local people but from tourists from other parts of Scotland and across the world."
Back to September 2012