Gillespies & Buro Happold win Moscow masterplanning prize
September 6 2012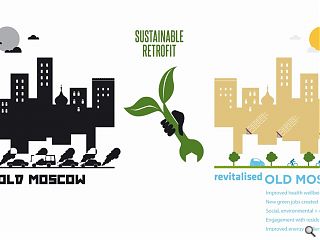 A design team incorporating Glasgow based Gillespies and Buro Happold has won a prestigious competition to masterplan a new
urban expansion of the Russian capital
dubbed 'Federal City'.
This sought to investigate how the city could manage the chronic pollution, traffic and overcrowding issues afflicting its historic core via construction of a new 'Federal City' alongside rehabilitation of poorly performing modernist neighbourhoods built in Soviet times.
Speaking to Urban Realm Brian Evans, partner at Gillespies, said: "The Russian Government wanted to address issues of urban sprawl around the edge of the city and the fact that a lot of middle class Muscovites were abandoning the city because of congestion.
"What won it for us was that we really understood the Russian landscape, culture and climate."
This landscape based approach harnesses existing topography to work with a series of lakes in the centre of the new district, surrounded by a forest landscape, as Evans noted: "That's very important in Russian culture because they know and value the forest because it ameliorates the climate.
"We argued that it was legitimate to take a lot of the back of house facilities from the ministries of Federal government and move them to a site on the edge of the existing city. We considered our strategy for Moscow as a dual strategy that simultaneously looked at the economic regeneration of the old city along with the development of the new city - so that the two could work hand in hand."
The work is currently on display at an exhibition in Gorky Park with Evans hopeful that the winning team will be invited to contribute to a new city development plan for Moscow in the New Year.
The team, which includes Group Ark of Moscow, Urban Design Associates of Pittsburgh and London based John Thompson & Partners, were awarded €250,000 to develop the proposals.
Back to September 2012