Edinburgh tidal facility makes waves
August 28 2012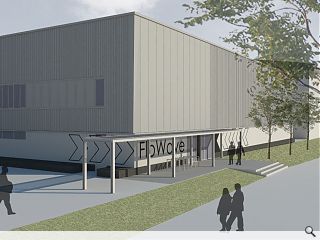 A
wave & tidal test facility
in Edinburgh, the only facility of its kind in the world, has topped out and a circular 25m pool designed to mimic coastal conditions emerged.
Built by GRAHAM and designed by Bennetts Associates the facility will simulate waves of up to 28m and tidal currents up to 12 knots to create the conditions necessary for testing marine energy technology.
Paul McBurney, project manager at GRAHAM Construction, said: "We're constructing this in reverse to how we would normally build a swimming pool: instead of creating the pool tank first and then building the structure on top, we're building this from the top down to allow the client fit-out team more time to finalise the design of the interior.
"The tank itself is capable of holding 25 million litres of water and will be one of the most sophisticated facilities of its kind in the world once it comes on stream."
The £9.5m facility will be operated by FloWave and is being built by the University of Edinburgh's Engineering and Physical Sciences Research Council.
It is scheduled to complete by years end.
Photography by Bennetts Associates.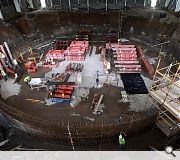 GRAHAM has driven the piles and excavated, reinforced and poured the base of the 5.4 metre deep pool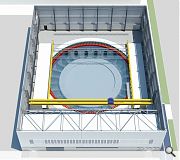 Once complete the tank will be used to test submersible devices, remotely operated vehicles and offshore wind installation and service vessels
Back to August 2012