Silverburn expansion plans submitted
August 17 2012
Plans to connect Pollok's Silverburn Centre with an adjacent bus station and leisure centre have been submitted by Retail Property Holdings.
This entails demolition of the last remaining vestiges of the old Pollok Centre, currently sandwiched between these civic buildings and the shopping mall, to build additional retail space and a cinema.
These will be accessed via a new public entrance which will bisect the cinema box and lead directly to the existing winter garden.
Designed by BDP the extension is intended to act as a 'confident new marker' for the western end of the existing centre, highlighting the enhanced offer that this end of the development will possess.
Work is expected to commence on site in January 2013 with a phased opening of retail and leisure elements through to November 2014.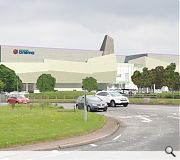 A 'fractured' facade will be employed to break up the cinema box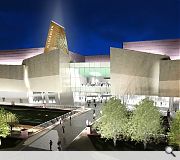 Five years on a temporary covering intended to mask the old centre is showing signs of wear and tear.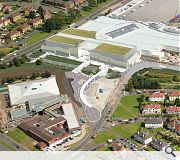 The intent is to bring the dilapidated western end of the centre up to the same standard as the rest of the centre
Back to August 2012