Planners reject faux Georgian New Town plans
August 20 2012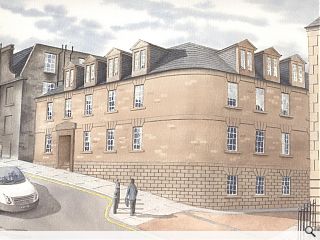 Designers of a £2.5m 'imitation Georgian' infill on Edinburgh's Union Street, at the heart of the New Town, may have to go back to the drawing board after city planners let it be known they were minded to reject the proposals
D2 Architectural Design were commissioned by retail technology firm Zonal to to produce the
pastiche proposal
- but the applicants have made it clear they are prepared to be flexible on the design.
James McLean, property director at retail technology firm Zolan, told Urban Realm: "If it was to be developed in a different style we'd be happy to do that so long as we could have the number of staff that we need in the building.
"We are an owner occupier, not a property developer, which wishes to expand our business to enable us to house more office staff. We already own six Georgian townhouses in neighbouring Forth Street.
"The council rejected the idea of imitation Georgian and more than two storeys at the pre-planning phase but we need the extra space a taller building will have. Our plans are of a similar nature to two other recently built offices in Union Street."
In their design statement D2 said of their proposal, which will be built on the site of an existing derelict print workshop and housing: "The development was designed taking into consideration the surrounding properties and the fact the site is located within the New Town conservation area and constitutes part of the world heritage site.
"As a result, the design takes cognisance of and similarly reflects the style, character, scale and proportion of the architecture merits apparent in the immediate vicinity incorporating the use of similar material finishes.
"We have proposed the use of a sandstone external wall finish with varied coursing and features typical of the fenestration apparent in the typical Georgian architecture of the area, white UPVC sash and case windows with traditional astragals, natural slate roofing finish with a single ply membrane to the flat roof section and grey/black metal rainwater goods also to match the existing."
Marion Williams, director of the Cockburn Association, digressed however, telling the Scotsman: "such ill-informed use of the classical language of architecture will result in a second-rate building within Georgian Edinburgh.
"The poor quality of the site at present is not an argument for accepting development that compromises the townhouses of Forth Street or an excuse for subpar classicism."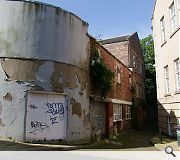 The existing printworks has been uninhabited for 10 years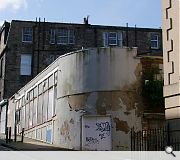 The new building will occupy the footprint of the old and rise to three and a half storeys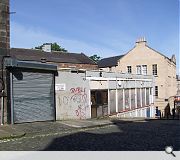 Zonal have said they may relocate from Edinburgh if they cannot accommodate their needs on the plot.
Back to August 2012