Dunlop praises Venice Biennale work
August 16 2012
The British Council has published the outcomes of 10 architectural teams dispatched around the world on a mission to research inspiring places which can serve as a model for the UK.
Amongst their number was a team comprising Ross Anderson and Anna Gibb, recent graduates of Robert Gordon university, who travelled to Russia to take a closer look at Moscow's so called 'Paper Architects'.
This loose collective formed in the 80s in response to government censorship of communication with the outside world, prompting its members to embark on risky manoeuvres such as forging signatures to get sketches for foreign design competitions past zealous military censors.
Gibb and Anderson are now in process of establishing
www.paperplusarchitects.com
to build an equivalent network of young British architects.
Commenting on the work Alan Dunlop, a visiting professor at the Scott Sutherland School of Architecture, said: "I've been struggling to get Scottish architects and architecture represented in the British Pavilion at the Biennale now for over twelve years, without success. Exhibiting in the BP has always been for a select few, architects from within the M25 and their pals.
"Peter Cooke said architecture quality drops like a stone outside London so from that start it's great that Ross and Anna have work on show. Both are excellent students and I think that their premise of encouraging young architects to act like the paper architects from the Soviet Union because there is little work around is a very interesting one. Anna's drawings are also excellent.
"As for Scottish architects exhibiting in the BP that's still something that is shamefully overlooked. Rather than looking abroad for inspiration, my view is that the BP should have looked much closer to home."
Each team will exhibit a series of essays and images within the British Pavilion at the Venice Biennale from August 29 to November 25 before moving to London.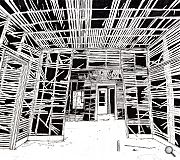 'Ruined Ruin' by Anderson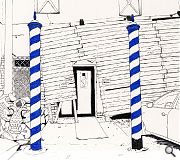 Entrance to paper architect Alexander Brodsky's office
Back to August 2012