Winning 'Thousand Huts' design unveiled
August 16 2012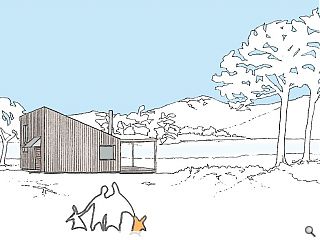 City Architecture Office has won an open design competition to create a modest retreat, part of the 'Thousand Huts' campaign organised by Reforesting Scotland.
The Timbabox Hut will be constructed from locally sourced home grown timber and employs a frame system custom built by the design team that can be erected on lightweight pad foundations and is fully customisable for a range of size, cladding and glazing options.
It will be self-sufficient with low energy demands thanks to a high degree of insulation and natural daylight, at just 3 tonnes it can also be easily transported and could be assembled and made weathertight within 24 hours.
Moray Royles, Director at City Architecture Office says, " We designed the Hut to be a simple affordable building that encourages living in the landscape. We are excited for the potential to see this developed in appropriate locations around the UK and to support the Thousand Huts Campaign. The Timbabox Hut emerged from our ongoing research of innovative technologies to make effective use of homegrown timber."
Reforesting Scotland director Ninian Stuart said, "City Architecture Office has created a wonderful, simple building for people who are seeking a rural retreat for living, working and recreation in the countryside. Building such huts with local timber can revive skills that all rural communities once took for granted and strengthen community resilience."
The cabin cannot be built however until an appropriate site can be found and funding secured.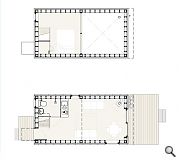 The hut makes use of timber which is not otherwise suitable for construction purposes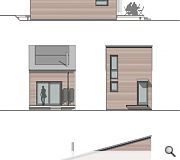 The proposal was a headline exhibit at the 2012 Big Tent Festival
Back to August 2012