Trump turbines given second wind
August 7 2012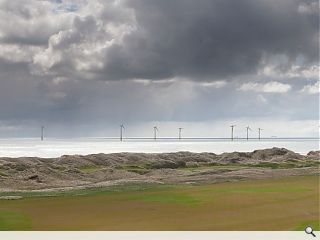 A cluster of 11 offshore turbines in Aberdeenshire which have caused Donald Trump to halt further development of his Menie golf course, could be set for a height boost after backers of the European Offshore Wind Deployment Centre submitted plans for larger turbines.
Fresh visuals depicting the scheme now incorporate the very latest turbine models, as much as 11.5ft taller than those previously proposed, triggering a fresh round of consultation.
This takes the maximum height of the blades tip up to 651ft with a radius of 36ft.
Six potential manufacturers have now signed working agreements with the schemes backers, Vattenfall, Technip and Aberdeen Renewable Energy Group, to build the £230m project.
Iain Todd, project spokesman for the EOWDC, said: "In keeping with the demonstrator concept we decided to make minor adjustments to the project dimensions to accommodate the tallest of these turbines in the event that we procure them. We are confident that our careful design results in a barely perceptible increase in visual and environmental effects."
Todd added: "Cities like Bremerhaven in Germany and Esbjerg in Denmark are already taking advantage and prospering from the growth in this expanding industry. So should Aberdeen."
This view looks east/north-east from Murcar Links Golf Course clubhouse. Murcar Golf Course occupies the sand dunes on the coastline to the north of the River Don.
This viewpoint is located on the elevated 8th tee at Murcar Links Golf Course. The front nine holes at the golf course run along the seaward side of the coastal dunes. From locations on top of the dunes, there are views out to sea.
Back to August 2012