UK's largest clinical laboratory completed in Glasgow
August 6 2012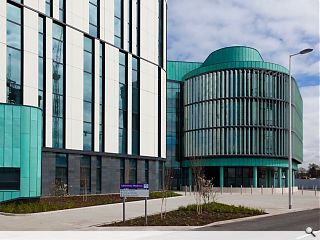 BMJ Architects together with contractor Brookfield Multiplex have handed over the keys to the
UK's largest clinical laboratory
, located at the Southern General Hospital, Glasgow.
The £90m facility will serve as a hub for diagnosis in the Greater Glasgow NHS area as well as containing one of the largest mortuary facilities in Europe.
Occupying a plot larger in area than a Premiership football pitch the building comprises 25,000m2 of accommodation, including a copper 'pod' which acts as a focal point for visitors to the surrounding under construction hospital campus.
Aiming for a BREEAM Excellent rating the building employs an exposed cast concrete superstructure that absorbs warmth during the day and controls internal temperatures by night. Plant equipment has been substituted for plants of the green variety on the roof to enhance site biodiversity.
A network of underground tunnels beneath the complex harbour a robotic transportation system used to ferry goods and clinical stores around the campus.
BMJ Architect, Raj Deb, said: "There is a social stigma that is so often a result of the design of technical buildings such as laboratories, hence these facilities are often hidden away from the public eye. Located centrally within the new hospital campus this building was designed to minimise negative perceptions that the word 'laboratory' might evoke."
Back to August 2012